Our History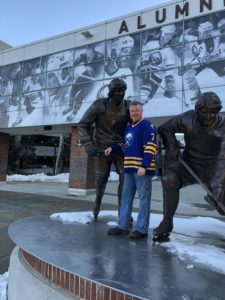 In 1992, I fulfilled my father's wish to follow in his footsteps and become a firefighter with the City of Lackawanna, where I was born and raised. Being a firefighter has always been a rewarding career, considering most of our work is about helping people.
In 1993, I started my own business, then known as Rico's Lawn Care Service. The name Rico comes from my childhood hero, Rick Martin of the Buffalo Sabres' "French Connection." To this day, the Buffalo Sabres are a team that I watch and support with very fond and long-lasting memories.
In 2004, I changed the name to Bison Bluegrass, which better reflected the type of work I was doing for most of my customers, and it's still the name I'm known for today. Many customers were looking for a lawn with a high concentration of Kentucky Bluegrass and the name change helped them find me more easily. Our Bluegrass lawns are installed using some of the best species and varieties of seeds available.
As a firefighter and a business owner – helping people seems to go hand-in-hand with both. When it comes to homeowners or home builders, site contractors, landscapers, developers, nursery owners, country clubs, or anyone looking for a lawn, I'm here to help. I enjoy the challenge of helping customers get the beautiful lawn they're seeking, and achieving the property they've always dreamed of. For me, that's what it's all about.
You know what they say: Choose a job that you love, and you will never have to work a day in your life. With 2 grown children and a beautiful wife by my side, I have everything I could possibly want. Everything else is just a bonus.
Thank you for your time and for considering Bison Bluegrass.